---
Tutorial: Garcia Mitchell 3-0-0 Spinning Reel Service

1958 Garcia Mitchell 3-0-0 (Version 6)
Bail is very stiff and sticky
Handle turn is stiff and sounds very noisy, whirring and some grinding
Finish is really not too bad with normal looking rubs around foot, back and bottom (Chip on front of foot)
Cover screws are mildly boogered, but not too bad
Serial number: 21xx752

I will use the following:
Flat Tip Screwdrivers
12mm Mitchell Wrench
Corrosion X
Aluminum Complex NLGI #2 Marine Grease
Cal's Teflon Drag Grease
Penn Reel Cleaner
3 in 1 Oil

"The first step which is skipped in tutorial for all screws is to first apply 3 in 1 oil, tap & let set before attempting to loosen"

(Part numbers will be in parenthesis)
Schematic used




And here is the Reel....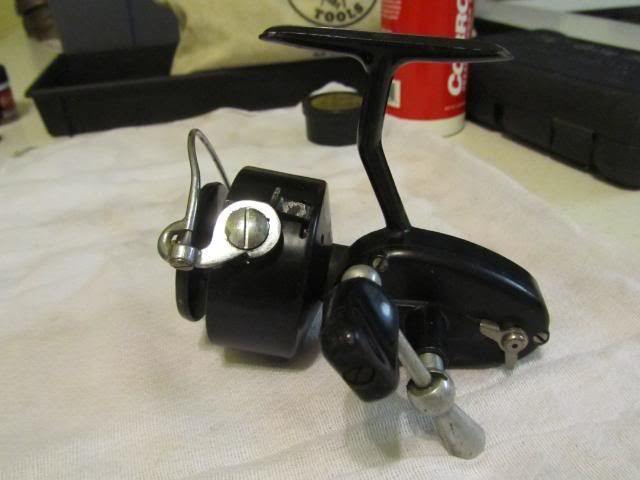 Remove the handle (16B) by unscrewing it (note it is reverse threaded)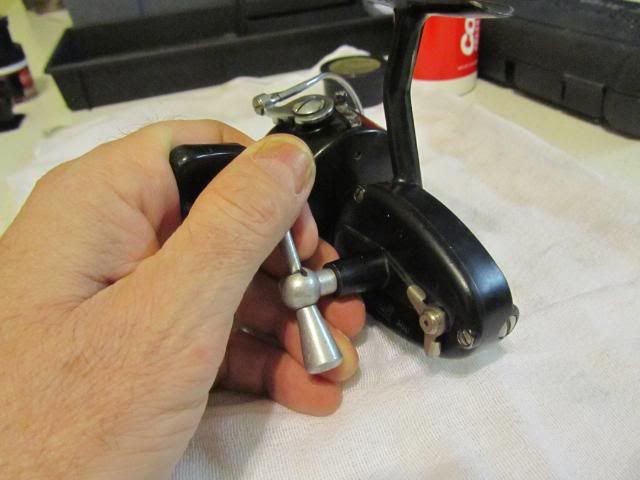 And remove screw holding handle on the shaft/arm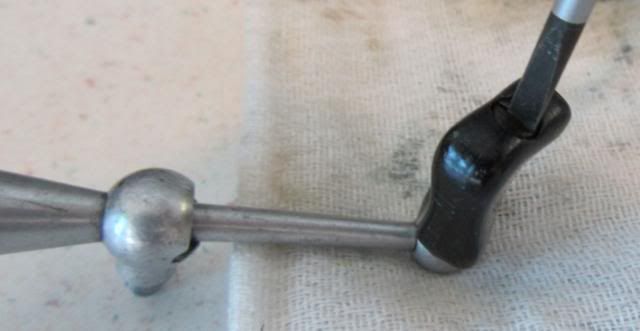 Push release button on spool, remove and set aside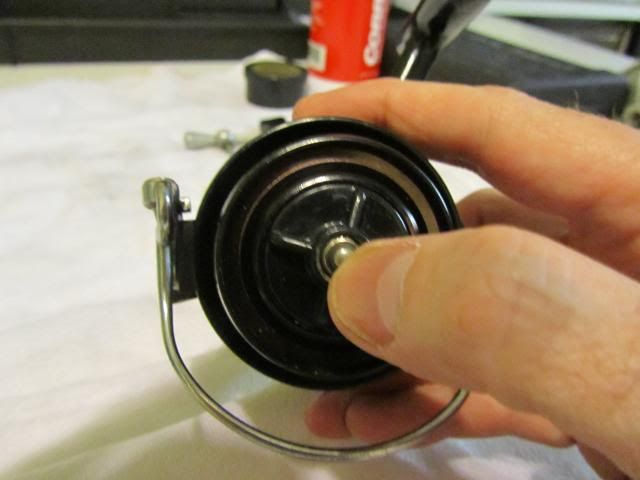 Remove the three cover screws (14)




Open the reel like a book (This way parts won't tend to fall out)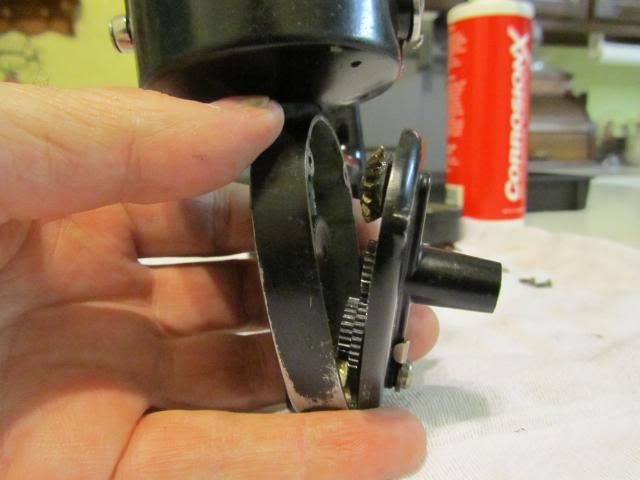 Here's what we have inside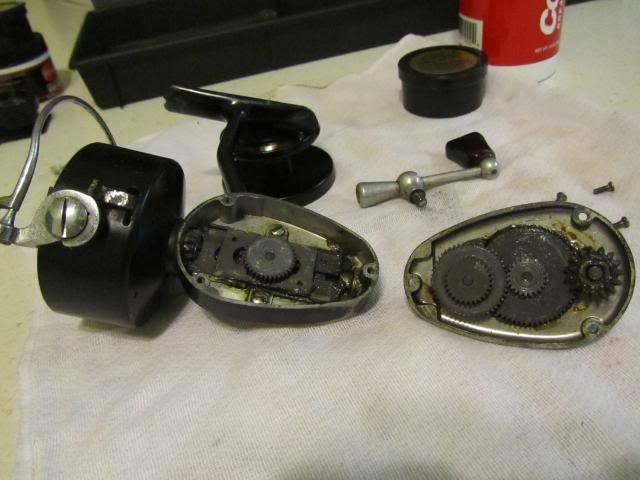 Remove the pivot gear (30)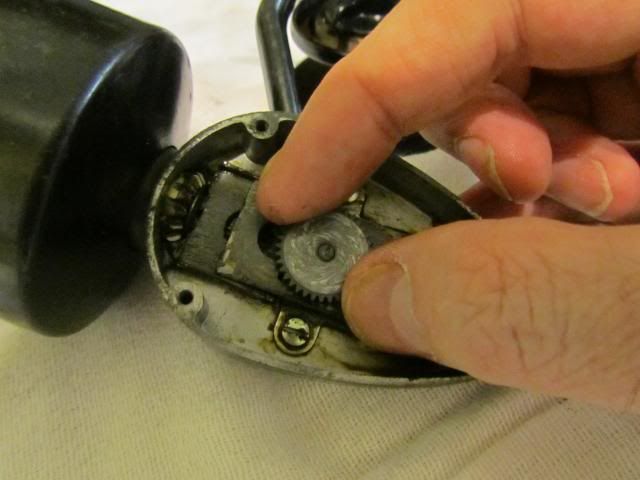 Gently pry up and remove the slide (27)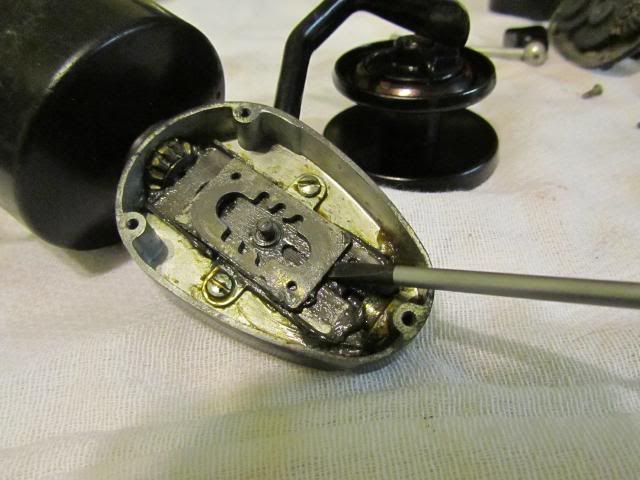 Now you can pull out the reel axle (7)
Sometimes they can be really stuck with hardened grease or oil residue that has turned to varnish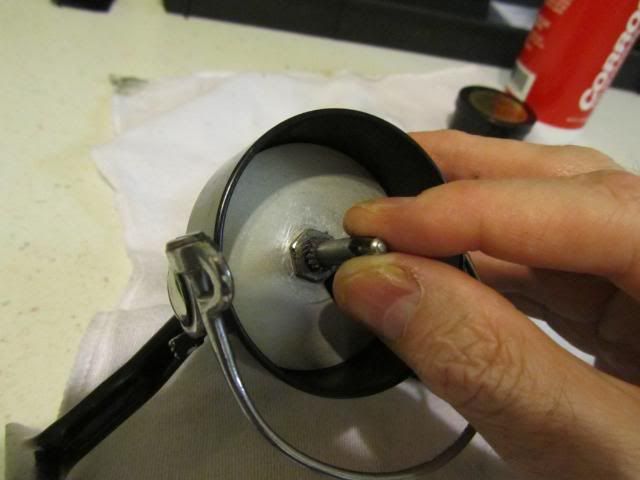 Loosen the 12mm baffle plate nut (35) and remove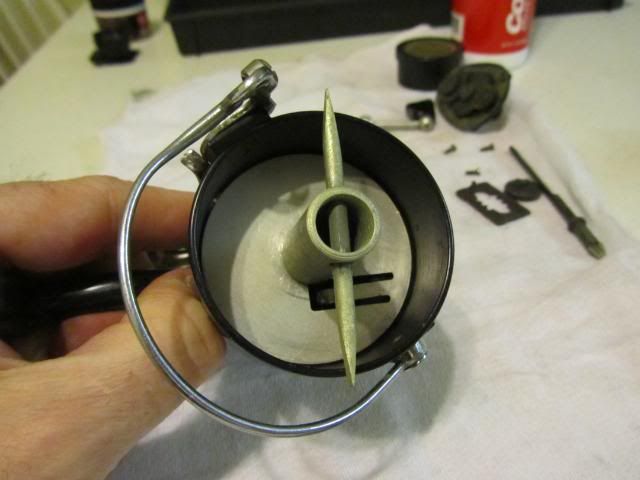 Gently pull the rotating head (39) up and off the housing (34) threads
This will free the baffle plate (41)
Note there will be a washer (48) under baffle plate and there may be one or more shims (49B) also
Be sure to look for them; don't lose them in the cleaning process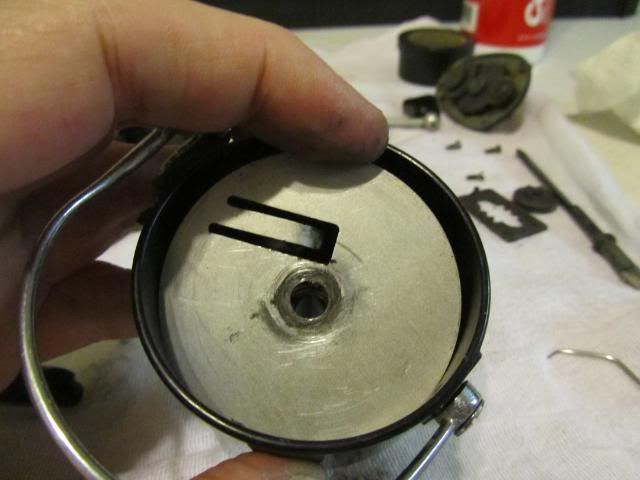 Here you see the baffle plate washer (48) stuck on underside




Looked to see if shim (49B) was in rotating head, but none were present
You will see later, that there was one, but it was installed in wrong location




Remove any shims (49A) that are present here
Note, they may be stuck underneath rotating head gearing, rub finger across it to see




Ended up finding the misplaced 49B shim, along with two 49A shims




Remove housing lubrication screw (15)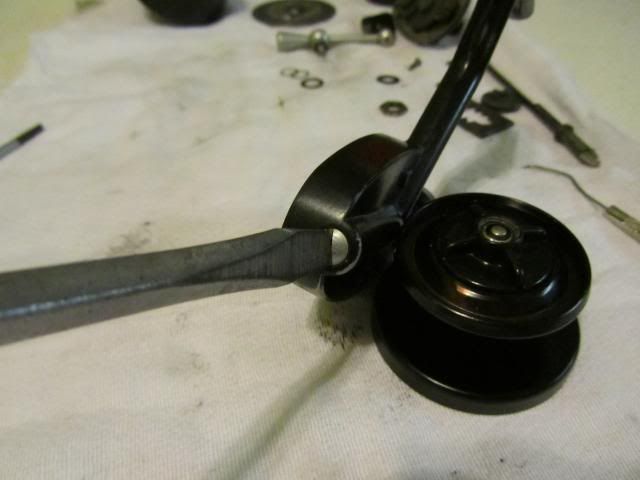 Remove the two slide guide mount screws (28)




Gently pry up and remove the slide guide (29)




Here we have the stripped out housing (34) ready for cleaning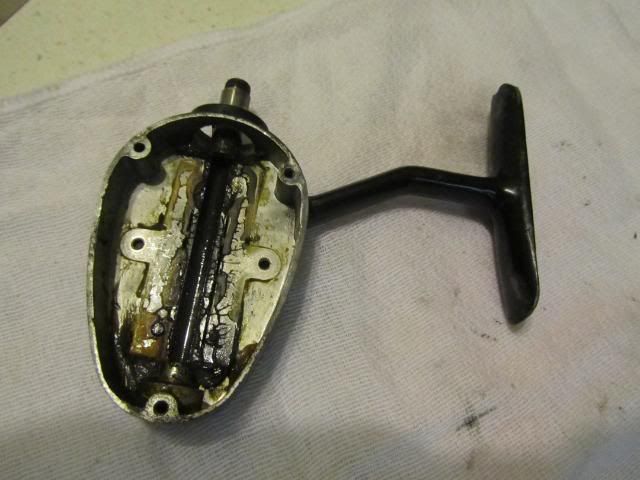 We will now move to the rotating head (39)
The liquid you see is the 3 in 1 oil that has been soaking for a while to loosen screws
You can see someone in the past has boogered one of the screw heads, by trying to force it with wrong size screwdriver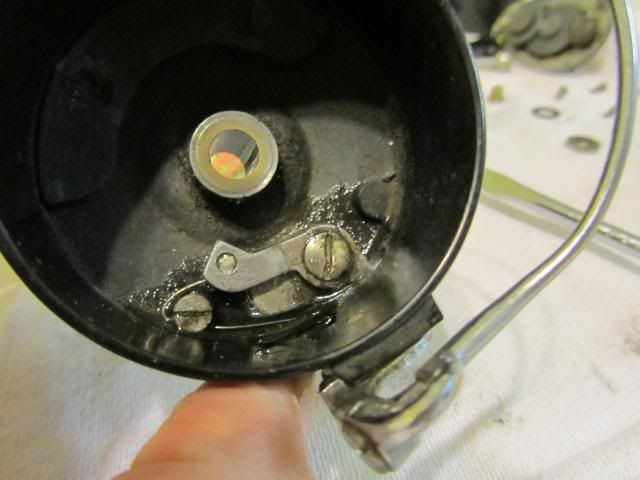 Remove the larger bail trip lever screw (45) and pull trip lever (42) out from the inside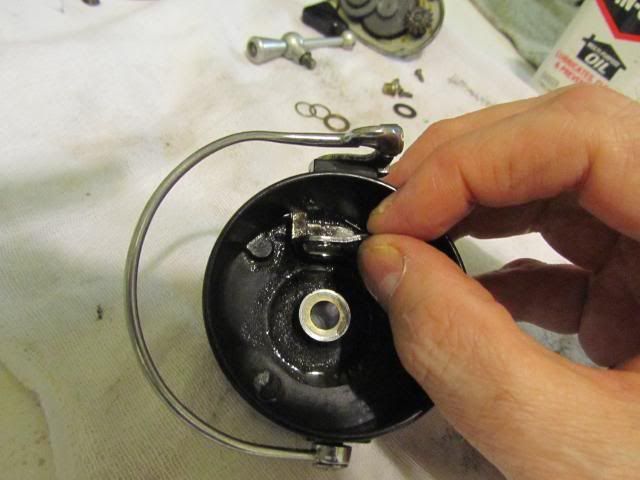 Next we will remove the trip lever spring screw (50) and the trip lever spring (44)
Notice the shape of spring looks odd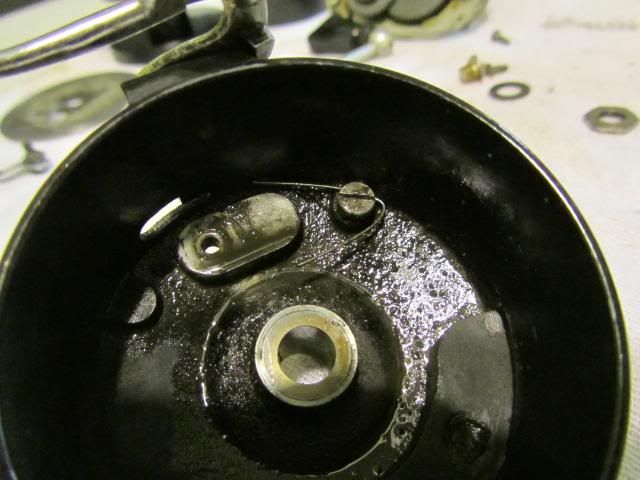 Here it is out and yes the spring has been bent to a very odd shape, which we will correct later before re-installing




Now remove the bail (40), by removing the two screws (46 and 47)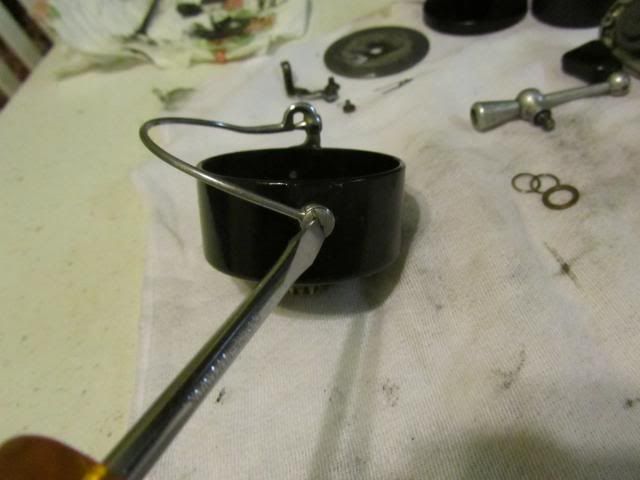 Bail spring (43) should come out also, if not pull it out
We can see how gunked up the bail spring is, no wonder it wasn't working properly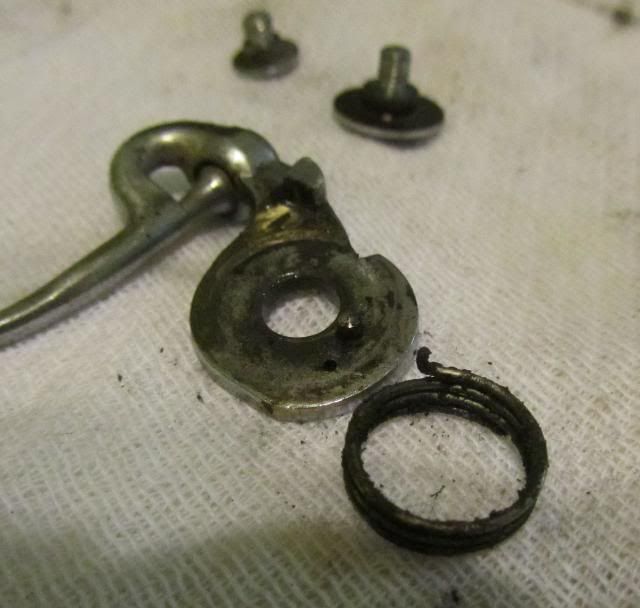 Here is the rotating head (39) stripped and ready for cleaning
I found that the counterweight inside was a little loose
This is NOT the kind with screws that can just be tightened
We will fix this by using Loctite 620 to bond the counterweight to the rotating head after cleaning
(This was a recommended product that I had not used before, but is working well, so far)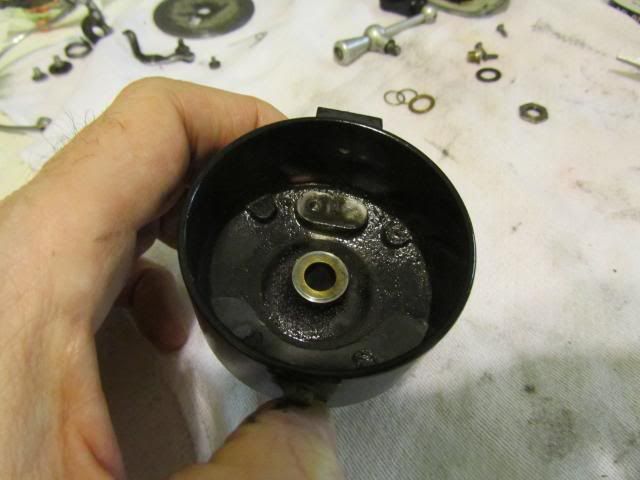 Here is the cover plate assembly (32)
Notice the gearing is cross-wind (CW) type, not level-wind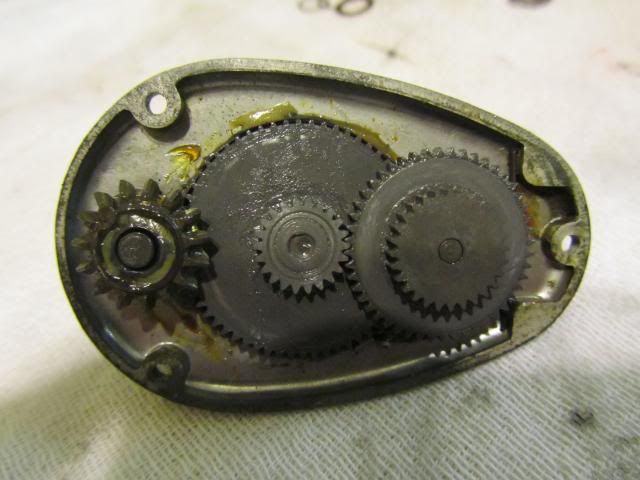 Lift up off the stud, the transfer gear (31CW)




Lift up off the stud, the pinion gear (26)




Look underneath for shims stuck to bottom of pinion gear




Or still on the stud
Here under the grease WAS a shim (51)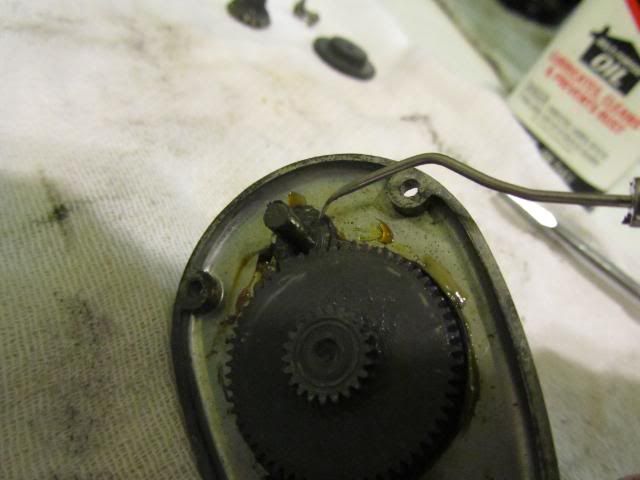 Lift out the main drive gear (25CW)
Look for any shims (54) that might be present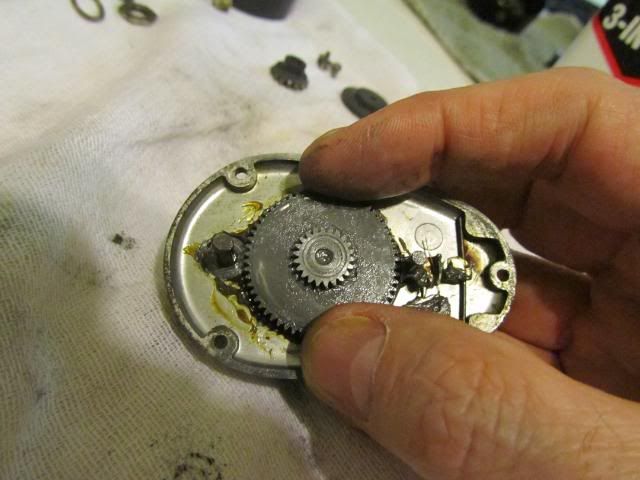 Check to see if the main gear shaft has a cotton insert, stuffed inside, if so pull it out
You can see it here being pulled out




Lift out the anti-reverse dog (24)




Here is the cover plate assembly (32) stripped and ready for cleaning





The cleaning process is not covered, but is:

Manually removing all grease & debris
Clean with warm soapy water and tooth brush
Drying
Cleaning any stubborn spots and displacing any residual moisture with Penn Reel Cleaner
Finally a full wipe down with cloth dampened with Corrosion X

If a more forceful means is needed, use a brass brush NOT a stainless steel one


Here are the parts processed and ready for assembly, minus the spool which will be covered last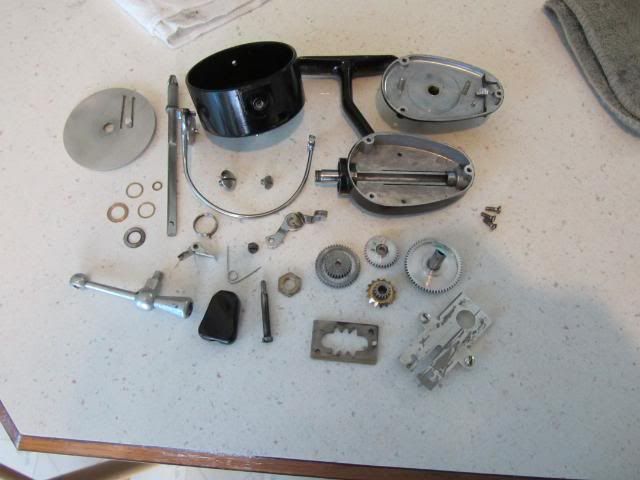 The inside of reel housing will get a very light coating of an aluminum complex NLGI #2 marine grease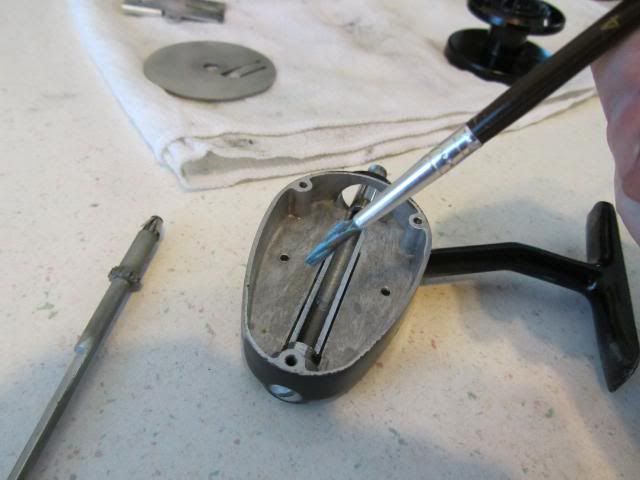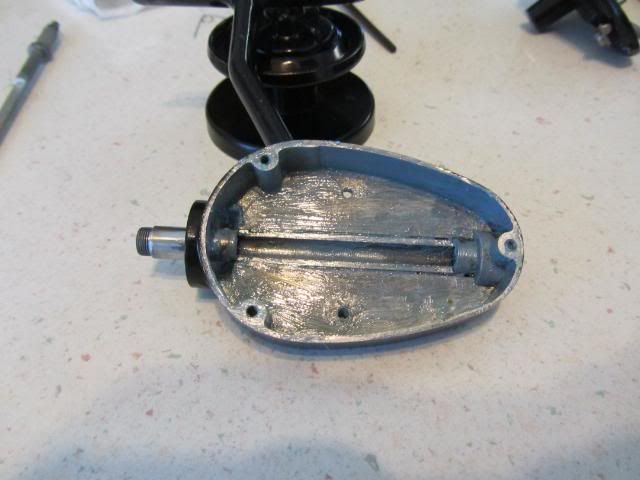 NOTE: All screws before being re-installed will first get a coating of grease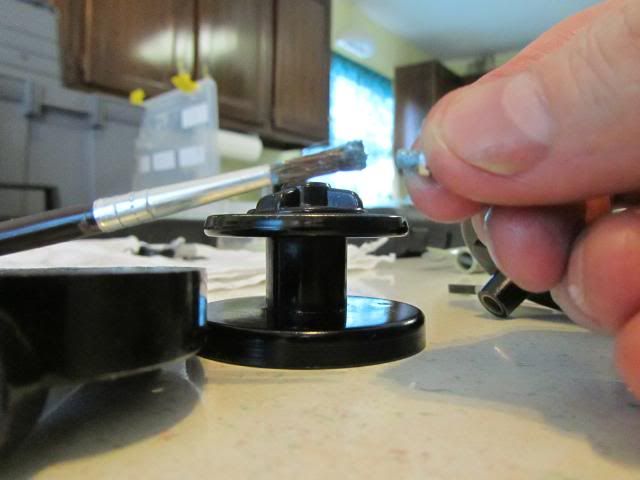 Install slide guide (29) with two screws (28)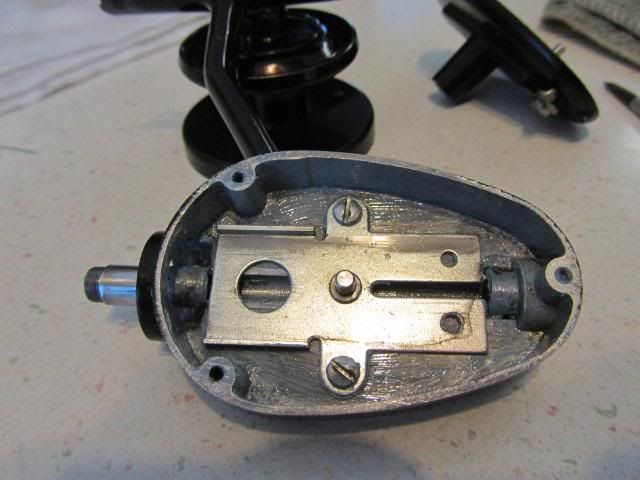 Again a light coating of marine grease




Notice the slight damage to two of the teeth on the axle (7)
We will be replacing this axle with an undamaged one




Install the Bail (40) and bail spring (43) with the two screws (46 & 47)
Notice the bail spring has two end points
One points out, the other points up or down, depending on how you are looking at it
The one that points up or down goes into the tiny hole (right by the stud) on the rounded face part of the bail




The part that points out fits in slot on rotating head bracket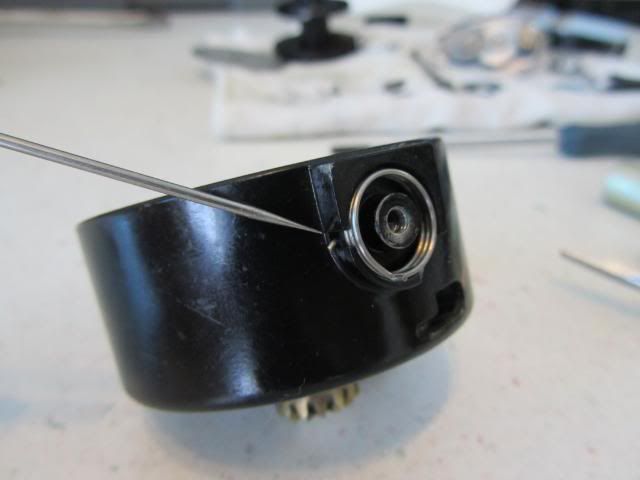 And then you spin around to load spring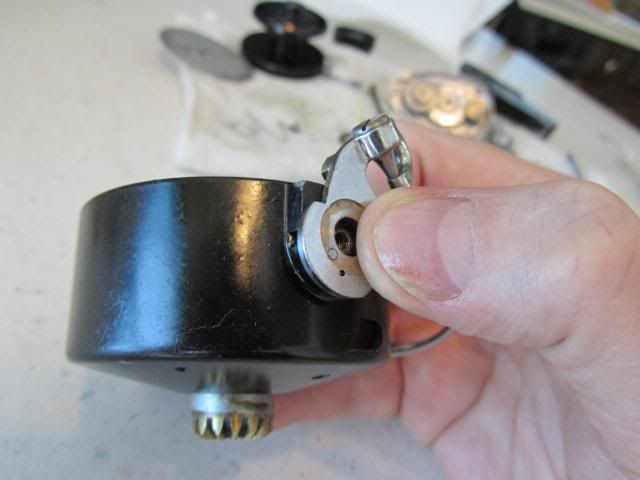 And finally install the two screws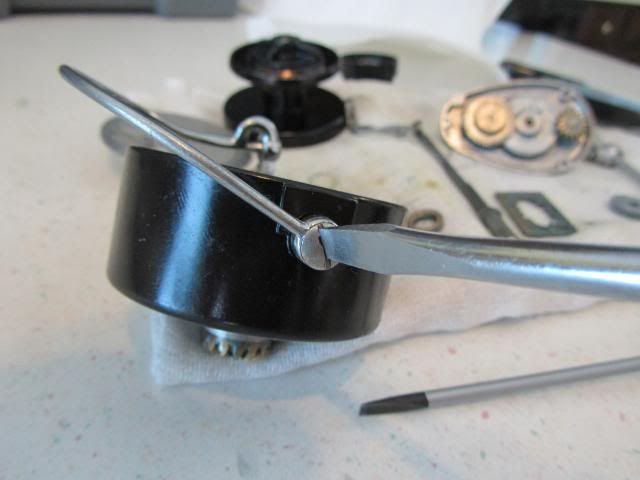 Lightly grease where trip lever and trip lever spring install
Reshape the trip lever spring (44) to a proper/usable shape, as shown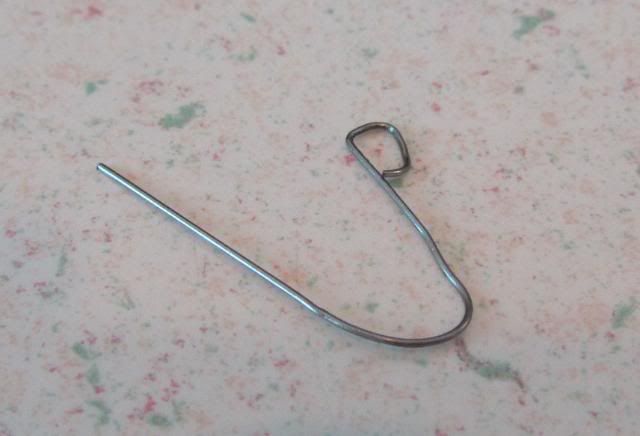 And install with screw (50)




Install trip lever (42) with screw (45)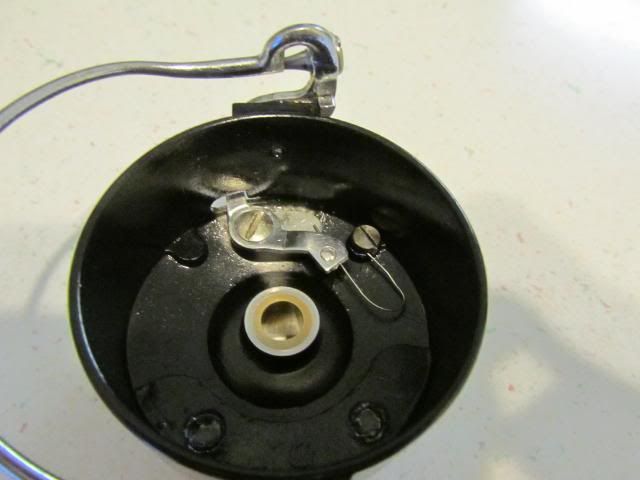 Slip the two smaller shims (49A) on threaded shaft of housing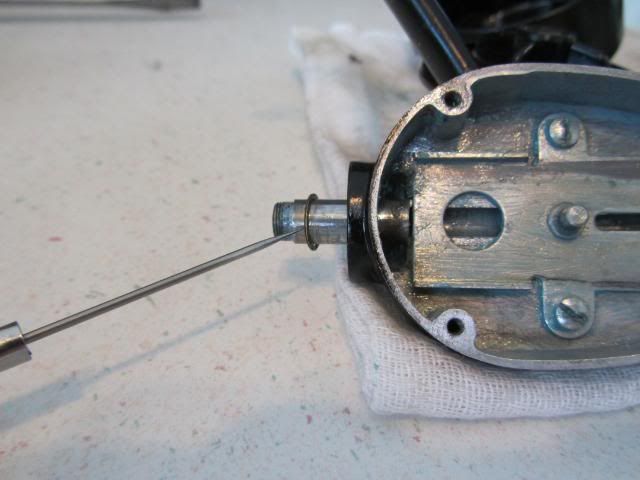 And install rotating head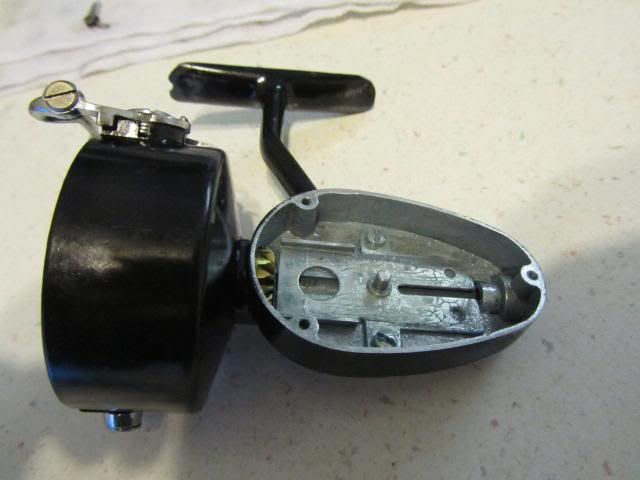 Complete rotating head with fixed counterweight after curing for 32 hours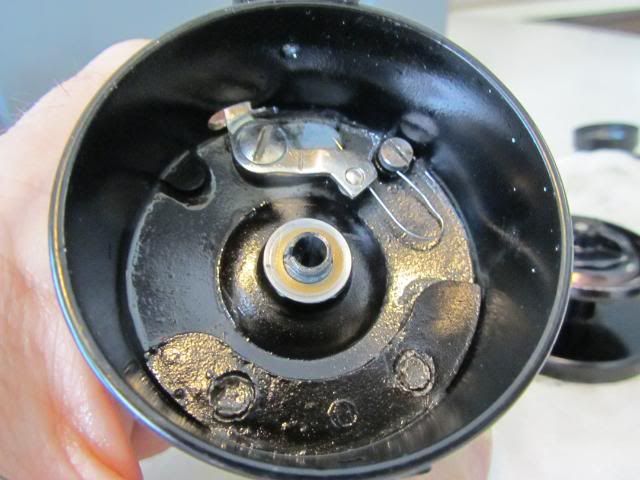 Slip the larger shim (49B) that was out of place on to the threaded collar inside the rotating head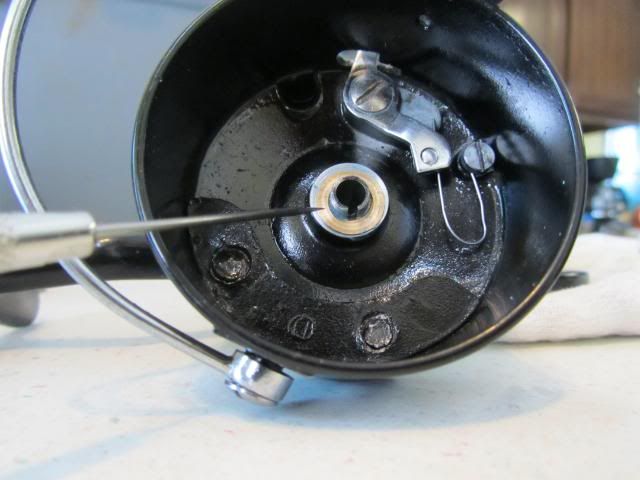 Then add the washer (48)




Install the baffle plate (41)
Notice it is keyed




Install the 12mm Baffle plate nut (35) and tighten
At this point spin the rotating head to make sure it spins freely
If not, you will need to adjust the shims on one or both sides, until it spins freely and quietly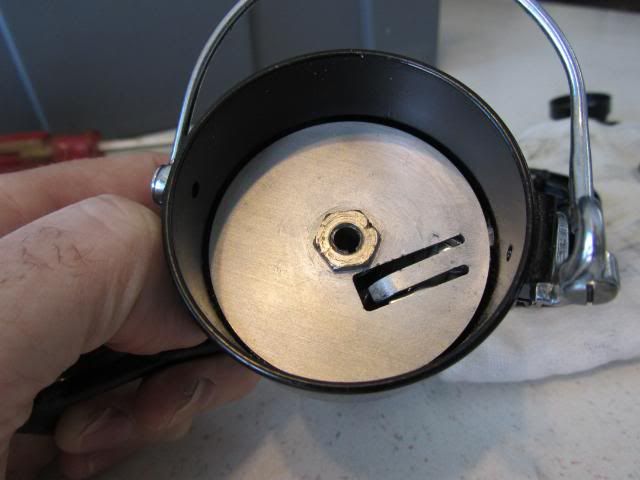 Install the axle through rotating head and into the housing (Flat side towards you)
Notice this is the new, undamaged one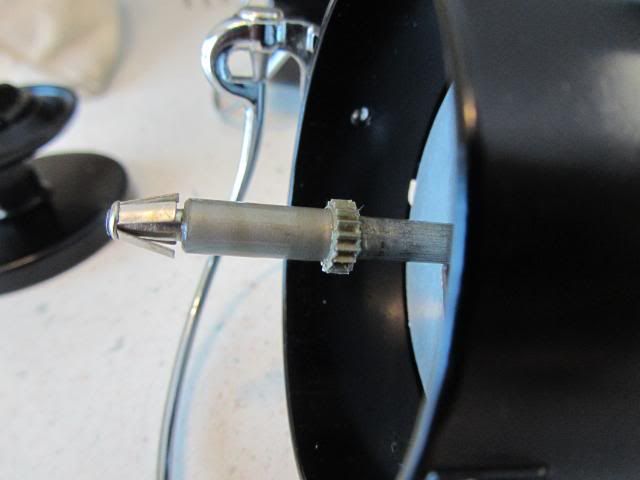 Then, lightly grease the slide (27) and notice the stud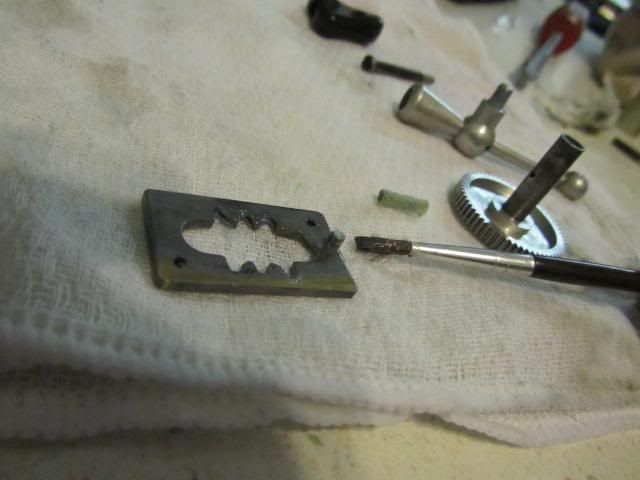 This stud will fit into the hole on axle that is now installed
Then lightly grease




Notice on the bottom on pivot gear (30) there are three raised appendages
They fit into the grooves/slots on the slide




Make sure the slide is shifted towards the back of reel housing




Install pivot gear (30) down onto stud (three appendages facing the rear) and wiggle until it fits in
Next turn pivot gear and make sure the axle cycles in and out as it should with no binding




Here is the cleaned cover plate (32)
Notice the wear marks from the main drive gear...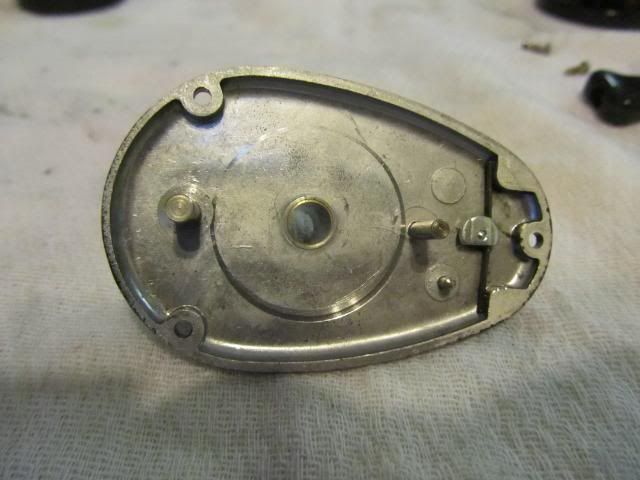 We are going to add a shim here (54) later, when we install the main drive gear
Since this will raise the gear slightly, we are going to also add another shim under the pinion gear

There are four main shim points on the 300 series reels
First number is the newer part number
The number in bracket is the older part number that I use in this thread

81012 [49B] Baffle Plate to Head
81024 [49A] Head to Housing
81047 [51] Pinion Gear
81035 [54] Main Drive Gear

These four points are where you can experiment to make them run smoother and quieter


Again lightly grease the inside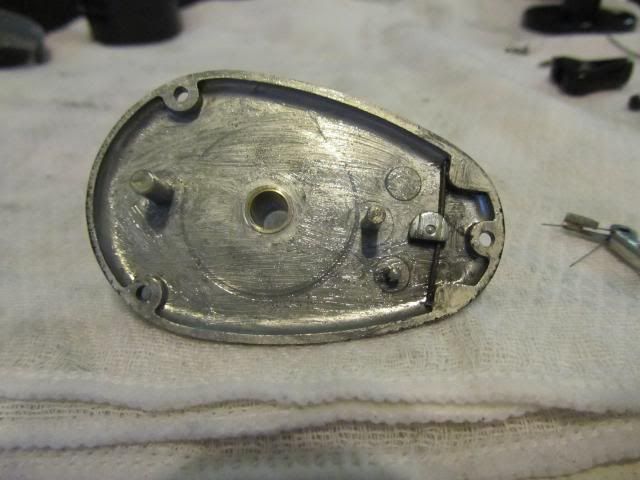 Install the anti-reverse dog




Take the main drive gear (25CW) and fill the shaft with grease
Screw in handle and remove, to see how much is needed
Excess will come out weep hole on shaft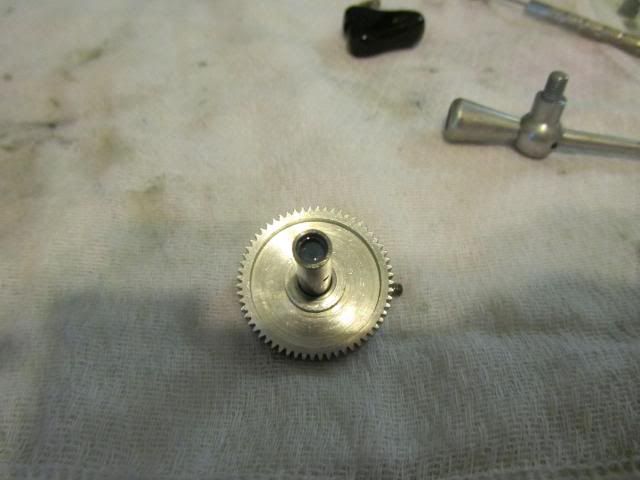 Clean outer shaft of excess grease and apply a small amount of Corrosion X on outside of shaft
I use a needle oiler for this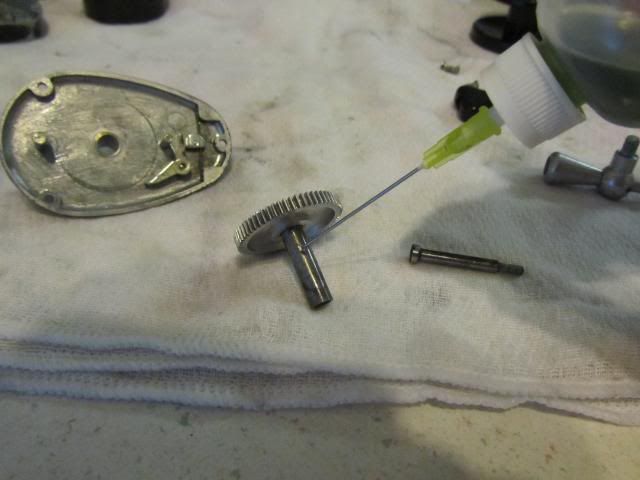 Install a shim (54) on gear shaft then slide main drive gear (25CW) in
Here is cover plate (32) with main drive gear (25CW) and anti-reverse dog (24) installed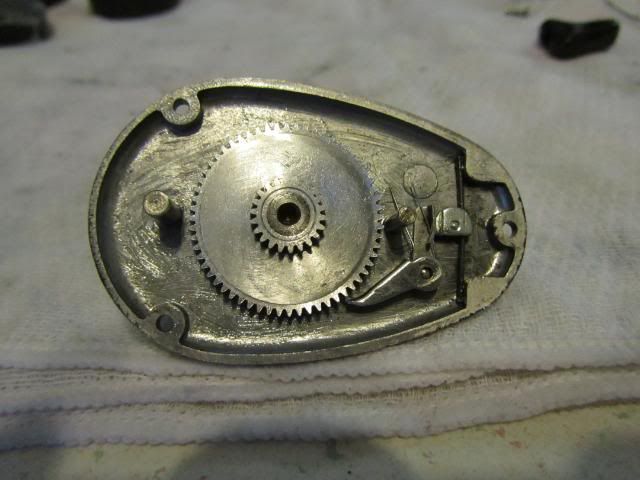 I added an extra shim here, so a total of two pinion gear shims (51) are installed on stud




Install pinion gear (26) on stud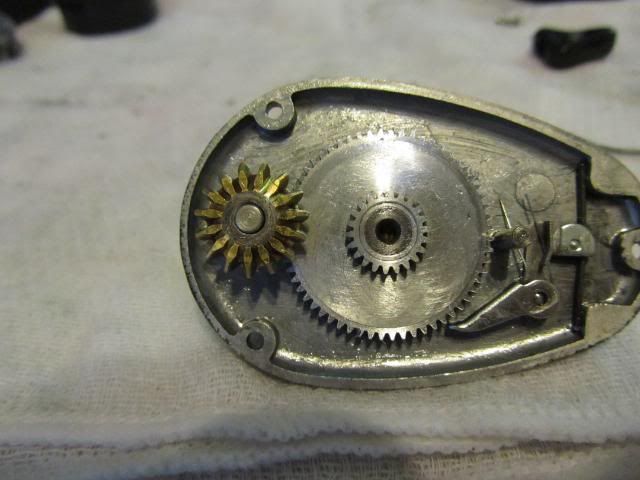 Lightly grease everything
Then install Transfer gear (31CW)
Then lightly grease the transfer gear
Next manually turn gearing to ensure everything is working properly
Reach under and manipulate the anti-reverse knob (boomerang shaped on this one)




See that reel runs in one direction only
Change position and see that the reel will run in both directions
"Smoothly and quietly"
Here it is checked out and completed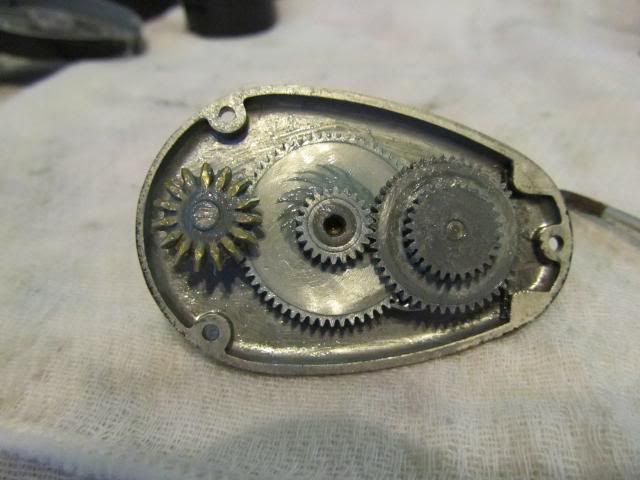 Lightly grease the faces where cover and housing will meet
Now put together the housing (34) and cover (32) like a book
Wiggle if needed, as gearing falls in together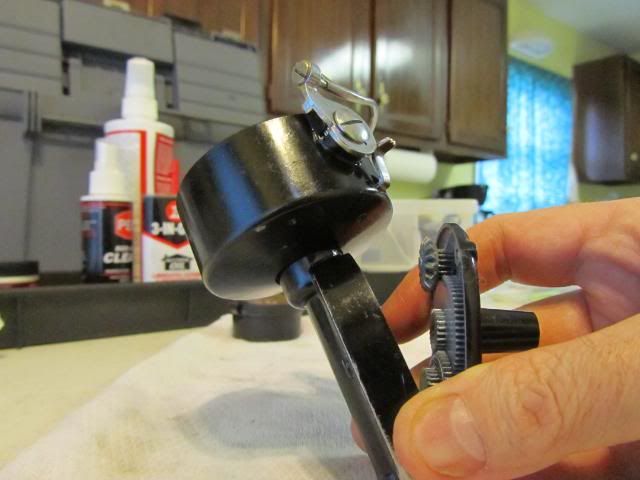 Install the cover screws (14)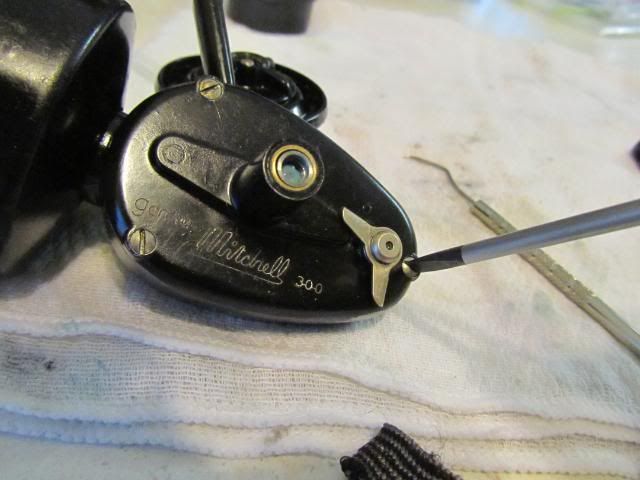 Apply small amount of Corrosion X on handle screw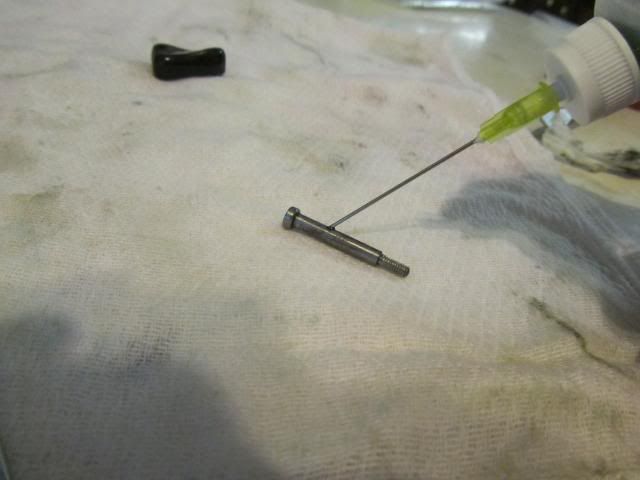 Slip screw through handle and attach to handle arm/shank





Screw on handle (16B) remembering that it is reverse threaded

Now, check the operation of the reel

Make sure no shim adjustments are needed or something is not meshing correctly


Now for the Spool…

Take spool and unscrew the drag adjusting nut (1)
Remove the drag nut (1)
Remove the brake spring (2)
Remove the drag washer (5)
Separate into two pieces, spindle (6) and spool shell (4)
There may be another drag washer on spindle inside, although this one didn't have one
It is in excellent condition and doesn't need any cleaning
A little Corrosion X on some points and it's ready for assembly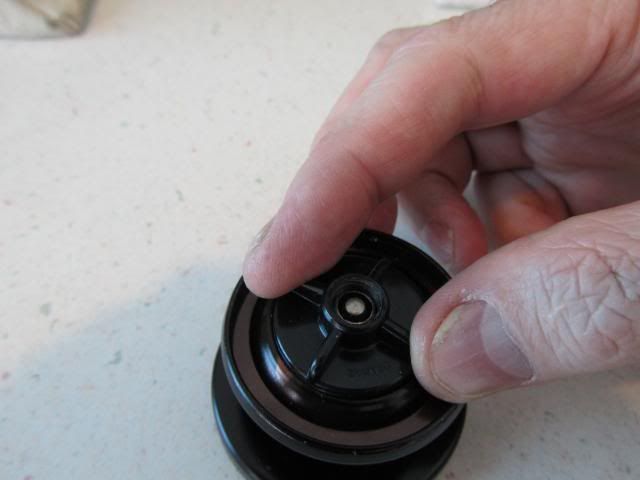 Here it is broken down




You can make changes to the drag by using another washer under shell, on spindle inside
Changing to the newer Teflon washers
Or if you really want to bump up the drag pressure, you can use Carbon Fiber ones
(Penn HT100), the correct size is 6-60 or 6-155 depending on OD needed (Inset type or not)
All I will be doing is greasing the regular fiber one, which will make it smoother in operation
Just a small amount is all you need
I will be using Cal's Drag grease for the drag
USE ONLY A TEFLON BASED DRAG GREASE!!




Put spindle back into the spool shell and rotate until the gearing meshes and it goes completely in

Then, lightly grease the drag washer (5) and install on spindle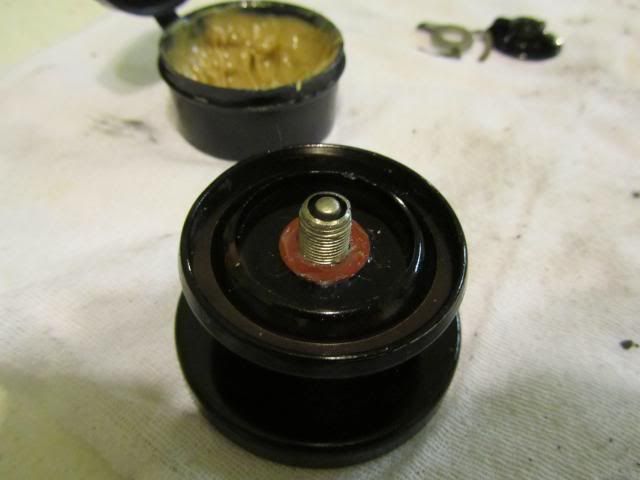 Lightly grease the bottom of the brake spring (2)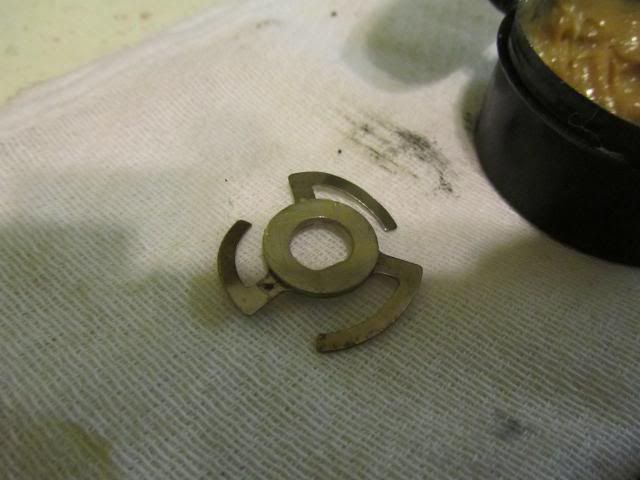 And install (Notice it is keyed)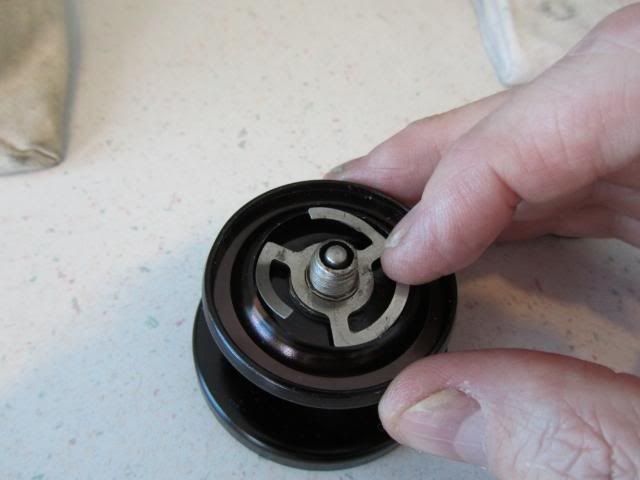 Screw on the drag adjusting nut (1) and the spool is complete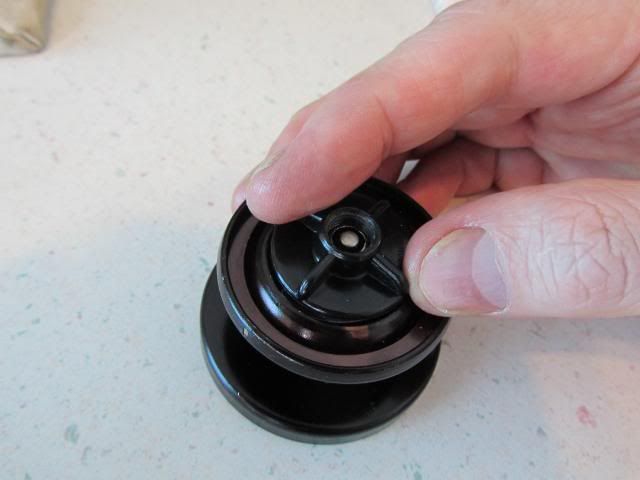 Here is the finished reel and spool
It runs very smooth now and bail works like new
Very quiet now also with the new shimming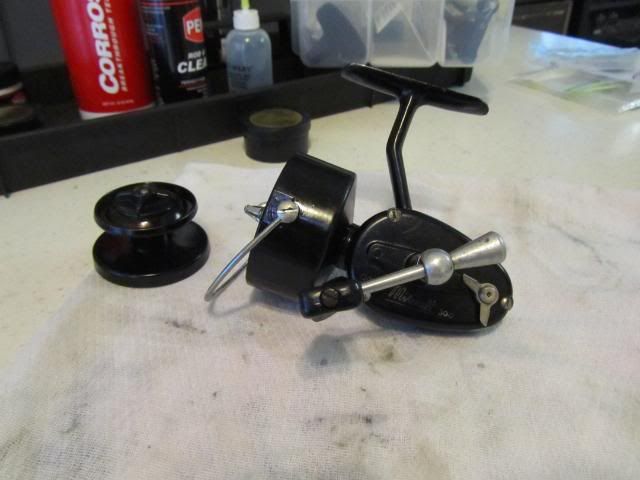 Last thing is to snap the spool into place on reel
Flip handle to storage position

And you're done...